Okay, since the foot surgery, I have been pretty isolated.
I have to admit an addiction; not to pain medications, but to Bravo TV! Stick with me here whilst I explain. I am so addicted, that when we switched to Satellite TV through my sister's company, I insisted on the more expensive package that carried Bravo TV much to my husband's chagrin. Here are 3 reasons why:
The Fashion Show,
below with Isaac Mizrahi, is Bravo's very mediocre substitute for Project Runway. The rights to Project Runway with Heidi Klum were sold to Lifetime television, and it will premiere on August 20.
I appreciated Fern Mallis'(the creator of New York Fashion Week, shown in purple) opinions on The Fashion Show, but in Isaac's own farewell words to contestants, "Sorry darling, I'm just not buying it"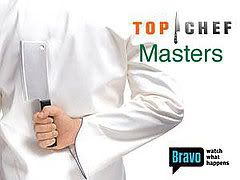 The Real Housewives of New Jersey
I am saving the absolute best, best, best for last!!! These 5 women are soooooo much fun to watch. Tiny and I LOVE THEM!
I thought the New York City housewives were the best. Those city slickers are oil stains in the parking lot compared to these true grit gals.
These girls don't bother with society or social standing! They are no nonsense, hard working women who were not born with a silver spoon in their mouths.
Family comes first, and revenge comes second.
Quick rundown from left to right:

Jaquline

in hot pink: Aching to have a baby, trying to be the peacemaker, every one's best and sweetest friend.

Teresa

with the black hair: Madly in love with her husband and 3 daughters, pays cash for multi-thousand dollar purchases (6 figures cha-ching). Hot Italian temper!

Danielle

in the center: Creepy sicko background, husband stealing, gossiping, trampy, stuck-up, broke mother of 2. Everyone loves to hate her, and for good reason!

Dina

the blond: Quiet spoken, devoted baby sister to Caroline, adoring sister-in-law to Jaquline, and a cat lover.

Caroline

the red head in black: She is the matron of this bunch. Happily married for 25 years, 3 grown children, extremely protective and very down to earth. Love her, mwah, mwah, mwah!